Hom nay minh nau canh du du voi thit heo xay an. Moi moi nguoi xem minh lam sao nha.
Nguyen lieu:
thit nac xay (thit heo)
1 trai du du mo vit hay du du gia
muoi
nuoc mam
Cach lam:
Tron thit voi mot chut muoi bot. Tron qua tron lai nhieu lan cho muoi tham deu. Dap dap vai lan bang cach mang thit len roi lieng xuong bich bich vai lan de cho thit giai giai hon. De qua mot ben. Ai an cu hanh hanh cai gi khac thi cho them vao.
Du du rua sach ben ngoai. Got bo vo. Che ra, moc bo hot va bon. Rua so qua nuoc lanh. Cho mot muong ca phe muoi bot vao cai thao nuoc, quay cho tan muoi. Xat du du cho vao thao nuoc muoi. Dao deu roi de qua mot ben.
Bat noi nuoc va cho them 1/2 muong ca phe muoi hot vao. Nau cho soi. Sa sach du du roi cho vao noi nuoc khi nuoc soi len. Khi soi len, hot bot. Khi du du gan mem, cho thit bam vao. Nau den khi thit chin, du du mem thi nem nem roi nhac xuong va tat lua.
Cho ra to va them hanh ngo vao cho thom.
Ket qua day nay moi nguoi.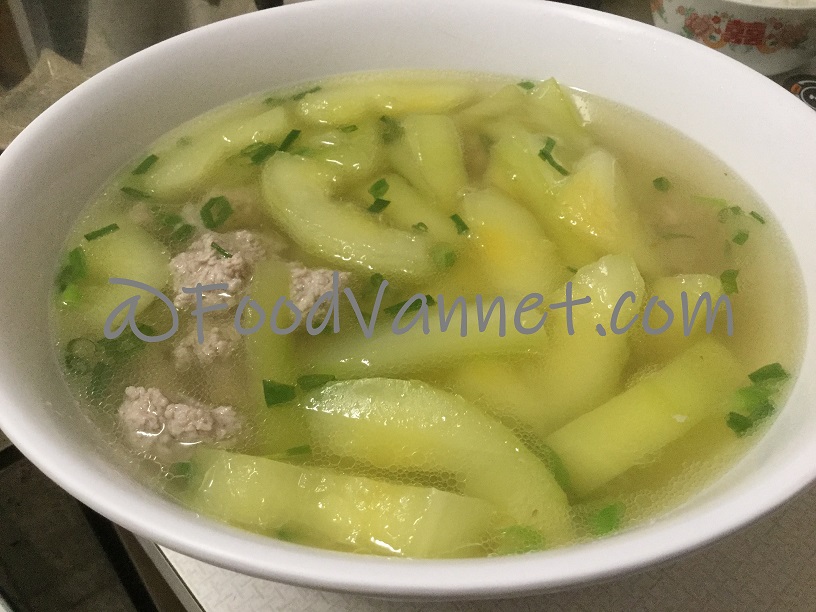 Khong te, an ngon, vua an nhung khong duoc ngot nhieu lam tu du du vi du du hoi mo vit mot ti. Neu duoc trai du du mo vit nhieu thi ngon biet may.
Con duoi nay la 2 to nhap minh viet de nho ma mang len day cho moi nguoi xem nay. Nho xem cach lam cua minh thoi, dung nhin chu ga boi cua minh nha.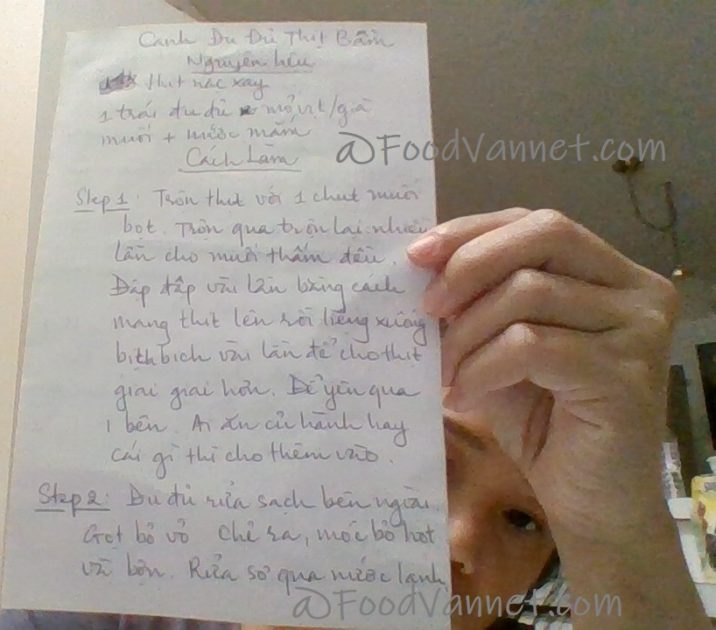 Hen moi nguoi bai viet toi nha. Minh cung co chup hinh to canh, khi nao minh upload len minh se cho vao bai nha roi moi moi nguoi vao xem.