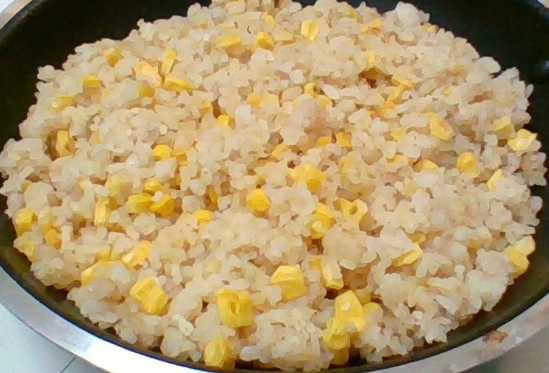 Ingredients:
1.5 bowl cooked rice
0.5 bowl fresh corn
1 chicken egg
1 spoon rendered lard/rendered pork fat
1/2 spoon golden granulated sugar
1/2 spoon fish sauce
a little bit salt
Fry, fry, fry…
The amount of ingredients are estimated because I didn't plan to write about it.
Bowl is a regular small bowl using to eat rice daily at a Vietnamese-American family dinner table.
Spoon is a small spoon which is used to drink coffee.
Details on how to make corn fried rice – coming soon!
For the amount of the above ingredients, I got almost 2 small bowls of corn fried rice.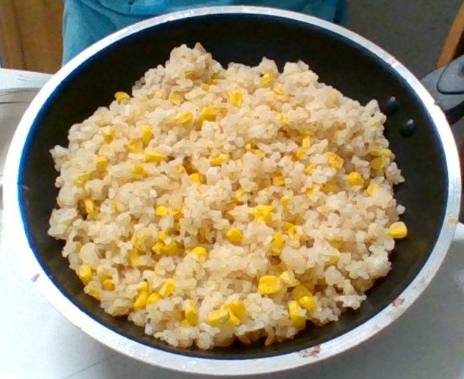 Both pictures are from the same fried rice but they were captured under different locations of light. The true color is the same as the picture from the left, light golden yellow color.
Okay, I have instructions for you to make it now. (August 18, 2022 5:20 p.m.)
Directions:
Bring a wok or a saucepan or a pot to heat.
Add rendered lard.
Add rice and stir until rice is hot.
Add corn and stir until the corn is almost cooked.
Add salt and stir until the corn is cooked.
Add sugar, egg and fish sauce and stir until rice, corn and seasoning are absorbed.
Eating suggestions:
Just eat.
You can eat them with pickled and/or mixed fish sauce.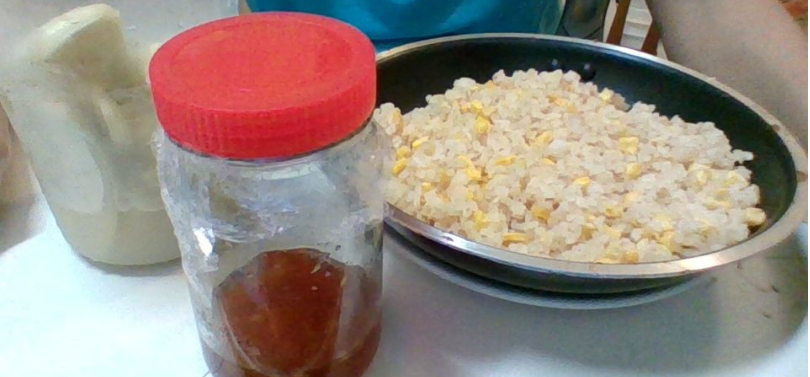 TTE (partial)
September 12, 2021 5:12 am
*All pictures in this post were captured by using a laptop webcam (cheap laptop, Intel i3 core only and almost 3 years old at the time capturing).