How to Make Sweet Mung Bean with Wood Ear and Tapioca Strip Dessert
Summer is here. Hot, hot, hot, hot… If you're living in Florida, the temperature is on 90's almost everyday. One of the thermostat at one of the middle school which is closed to where we're living, showed 93 degree after 6 p.m. yesterday. Wow, we wonder how high at the noon. Anyway, most of us are living in A/C and doesn't really care but there are many people don't have any A/C at all for examples some people are living in mobile homes (manufacturing homes) or homes were build in 50's or 60's. If we don't care, so how about if there would be no electricity in one day, everyone of us could run crazy and turn worst than others…
We should try some ways adapting the nature and how? We don't know yet but there are some food can help us cooling down our body temperatures in the summer. At the following is one of them, we think it'll help a lot in the summer especially for young adult. That's mung beans are cooked with wood ear and tapioca strips. Here are how we've done this sweet dessert.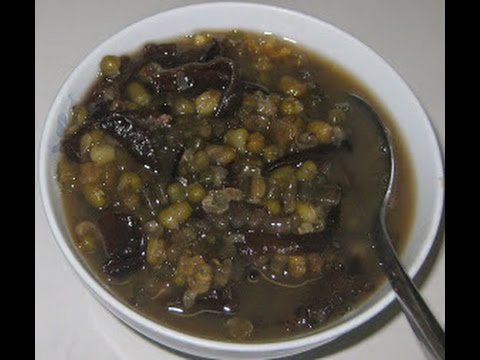 ***Mung Bean Dessert (LAM CHE DAU XANH) Wood Ear, Tapioca Strip
Ingredients:
Green mung beans
Wood ears
Tapioca strips
Sugar
Salt
Directions:
Soak green mung beans in water overnight or 2-8 hrs. The longer we soak the beans, the less time of cooking and beans will provide richer tastes naturally… When soaking, don't forget adding a pinch of salt and mix well.
Before start cooking the beans, soak wood ears and tapioca strips in water.
Cook the beans: drain all water out. Transfer the beans to a pot and add water. Start cooking at the high heat and skim any foam. When there is no more foam on the top, continue cooking at the low to medium high heat. Cook until the beans reach to tender point. Don't forget skim occasionally to get rid of any foam.
When the beans are closed to be cooked, add wood ears. When the beans are reboiled, add tapioca strips. Continue cooking until they're cooked
Add sugars. Add a little of salt if necessary. Don't forget skim the foam frequently.
When sugars are dissolved and the taste is what we like, remove from the heat.
https://www.youtube.com/watch?v=keWYDedMR3E
***Mung Bean Dessert (LAM CHE DAU XANH) Wood Ear, Tapioca Strip
Suggestions:
Eat them when it's still little hot or warm.
Eat them with crushed ice.
Frozen them and eat later.
Blend them to make ice pop.
When eating, we can add some coconut milk gravy.
How to make coconut milk gravy? is step by step how making a topping coconut milk gravy.
Updated 8/24/2018
There is another video shows you how to make this type of dessert, I'll add it later.
BT
This article was written and published by BT on Jun 14, 2015 @ 21:37.