How to Make Vietnamese Coconut Milk Gravy
Making coconut milk gravy isn't hard, just need some patients. In order to make a coconut milk gravy, we need to have
coconut milk
sugar
salt
rice flour
water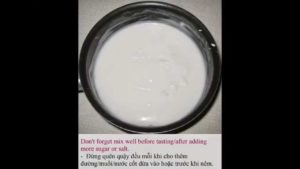 Here is how I made coconut milk gravy.
Add flour and water in a little saucepan.
Stir until the flour is dissolved.
Cook thoroughly at the high heat until the mixture is boiled.
Then lower the heat to medium heat (low heat if necessary).
While cooking, don't forget stir constantly to prevent the mixture stuck at the bottom of a saucepan.
Add sugar & a little bit of salt. Stir well.
When the mixture is cooked and becomes thicker, add coconut milk.
Stir well and cook until it's reboiled.
Taste again to make sure the taste is what we want. If it's not sweet enough, add more sugar; if it's not salt enough, add more salt.
Then remove the saucepan from the stove.
Here is a quick snapshot how to make coconut milk gravy at home.
***How to Make Coconut Milk Gravy (CACH LAM NUOC COT DUA) making gravy for yourself – JQ FOOD Dessert
Coconut milk gravy is a great gravy/sauce for your dessert especially steam cake. Coconut milk gravy can be used in the form of dipping sauce or topping sauce.
Notes:
*** Carefully, the gravy is very hot when cooking because it contains the flour.
*** We can substitute rice flour with other flours, but in my experience, the rice flour is the best flour to make coconut milk gravy.
*** Don't forget turn of the stove after removing the saucepan from the stove.
Updated 08/22/2018
Here is another way making coconut milk gravy for steamed cakes. This video is in Vietnamese language but you can understand it by watching step by step she done. We'll write about this technique in the future.
In Vietnamese – Tiếng Việt
***Nước Cốt Dừa (ăn bánh hấp miền Tây) – VN Cooking – Coconut Gravy for Steamed Cakes | Cach Lam
This article was originally written and published on: Mar 30, 2015 @ 06:46.
FoodVannet.com