Method #1: Making bean sprouts by using an unused Welch's grape box and dishwasher
What do we need in order to do?
We need mung beans, unused grape box, napkins, towel, water, dish and container.
How to do?
Soak mung beans in the warm water.
Lay a wet paper towel at the bottom of the box.
Lay a thin beans layer.
Lay another wet paper towel and then another layer of beans.
Repeat it (3-5 layers).
Don't forget lay some wet napkins on the topmost to cover the beans.
Place them in another container but don't forget place a dish in between to keep the bean not rotting.
Cover them with a thick towel.
Place them in the dishwasher.
Check them on the second day; if they're okay then take them out; if it's not, leave there and wait but don't forget to make sure the napkins/paper towels are still in wet.
How to Grow Mung Bean Sprouts (Plastic Box, Paper Towels, No Water)
//https://www.youtube.com/watch?v=mGWqNXltLLI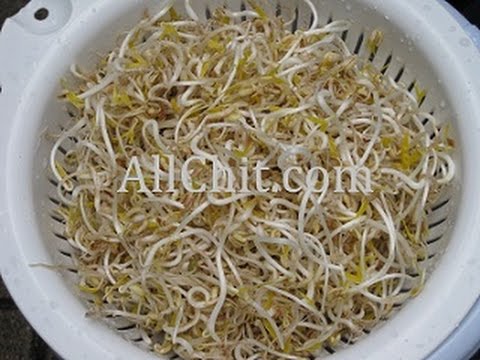 Method #2: Making mung bean sprouts with clothes and dishwasher
To make the sprouts, we need beans, clothes, towel, water, basket, container and dish.
Steps on how to make the sprouts.
The processing of this method is the same as the method #1.
The only different is we use clothes instead of napkins and definitely don't watering at all.
Wait your sprouts growing.
That's it.
How to Grow Mung Bean Sprouts
//https://www.youtube.com/watch?v=bdtB-4ru5ig
Remember coming back foodvannet.com for latest exclusive tips.