Hey, today I'm going to share how this sweet & sour chicken wings were made.  This is an easy and fast way making some sweet & sour chicken wings for yourself and by yourself.  Actually, this new short way making chicken wings just came up when I couldn't finish a box of fried chicken which I bought from a grocery store another day.
Let's go to see how I've done it.
Ingredients:
Fried chicken wings
Sugar, vinegar
Optional: water, soy sauce, salt.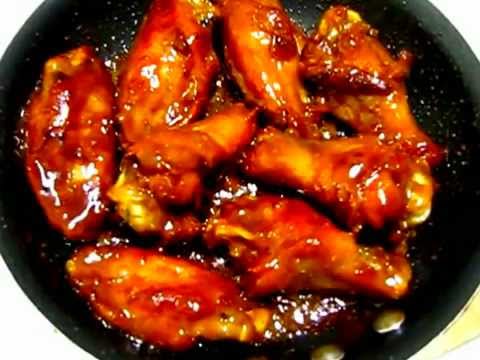 How?
Just add sugar, salt, vinegar and a little water to a saucepan.  Cook and stir well.
When the sugar is dissolved, add chicken wings.  Stir well.
When the chicken wings are coated, remove it from the heat and turn off the stove.
Wait the chicken wings are completely cool down before eating because the caramel sugar is very hot.
Sweet & Sour Chicken Wings (Canh Ga Chua Ngot)
//https://www.youtube.com/watch?v=vlG5o7LY3lM
It's kind a close to Chinese sweet & sour chicken but it's not a perfect as the sweet & sour chicken from the restaurant.  Anyway, it tastes not so bad and very good when eating with the white rice.
*** Be careful when cooking because when the sugar turns to caramel, it's very hot.
When eating, make sure don't swallow the bone because the chicken bone is very sharp and dangerous.
Written by B.T.