Golden Yellow Pork, Shrimp and Root Vegetables Egg Rolls
Egg rolls: Shrimp Pork Egg Roll
Egg rolls… Everybody's favorite… Easy to eat… can eat blank, eat by dipping in sweet 'n sour sauce, eat with vermicelli noodles, eat by rolling inside green leaves like sweet choy or mustard greens baby lettuce leaves,… Just couple dollars, we can get them everywhere in Asian restaurants but how about get the ones suiting our tastes. It's seem uneasily. Here is an idea how we can prepare ones for ourselves. Go and try… if it doesn't succeed first time, we can try others.
Here is my final dish of fried egg rolls. How is that? Look yummy, right?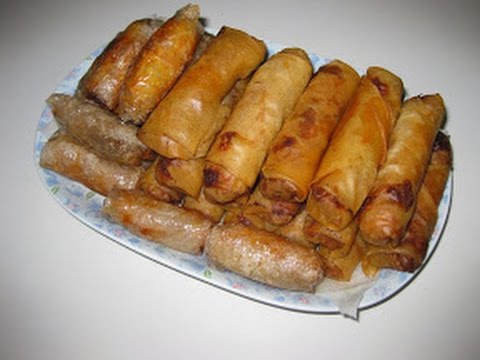 How spring rolls can be done?
Egg roll wrapper sheets
I used Chinese egg roll wrappers to wrap the egg rolls but they were run out so I used tradditional Vietnamese rice papers (bánh tráng)
Egg rolls' filling
Ingredients
Root vegetables: carrot, yellow onion, shallots, taro root, jicama root; peel the skins and then shred them.
Meat, seafood…: shrimp (minced), ground pork, egg.
Seasoning: sugar, salt, pepper
Misc.: mung bean thread.
Cooking oil: peanut cooking oil
Add all them together in a large bowl and mix well.
Egg yolk is used sealing the roll after rolling
Getting an egg, break it and then separate egg white and egg yolk.
Add egg white to the filling and mix well.
Keep egg yolk in a little bowl.
Wrapping egg rolls
Place egg roll filling on a wrapper sheet.
Fold, roll and seal them.
Video on how to fold an egg roll easily

***How to Wrap a Spring Roll – Perfect, Nice, Easy and Simple – VN Cooking
Frying egg rolls
Pre-heat the oil while wrapping the roll.
When the oil is hot (medium high), place egg roll in one by one.
Frying egg rolls on one side and then turn to the other side when they turn golden color.
Ready to eat
Remove egg roll off the oil when they're turned golden.
Might place them on a paper towel to get rid of any excess oil.
Video on how to make eggrolls at home.
***Egg rolls: Shrimp Pork Egg Roll (Cha Gio Tom Thit) by JQ Food.
It's not so bad when tasting but does this way is the right way? I don't know but there is one thing I known for sure that I can eat them without throwing up or abdominal pain lately.
This article was originally written and published on: Feb 21, 2015 @ 08:16.
Written by B.T.