Hot, hot, hot… Too hot… Summer is here… We need something cooling us…
Today, it's very hot. It's 96 degree where we're living but actually it's hotter because there is no wind at all.  It's hotter at the subdivisions/houses where people love green lawns only and there are no trees around the houses.  If you're living at those places, we're strongly advise that you should not walk around your subdivisions right now avoiding getting heatstroke. We're just been out at the backyard, our skins are so itchy/burning like. We don't think anyone would volunteer going outside right now unless having to.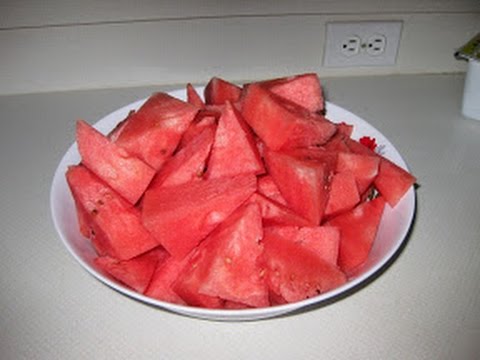 We're sure it's hot the same at other locations too. According to the weather channel, in next 5 days, the temperatures keep at 96 and 97 at where we're living and there are no raining until Thursday (50% chance of raining)… Too hot now in June. We're wonder that it might be hotter in July & August; these two months are usually very hot.
Even though, we're inside with the A/C on (on high speed most of the time) right now, we still feel not really comfortable, our mouths are always thirsty… So, we just think about getting watermelons, cantaloupes, or honeydews… to cool our body temperatures…
How to cut watermelon…  Do you want one?  Ha, ha, ha,… we're going get one now.
//https://www.youtube.com/watch?v=qVwqG42Ea3M (How to Cut a Watermelon (XE DUA HAU), 93 views 1 month ago, Published on Mar 3, 2015)
See! it's yummy; we need it especially right now.
JQ Food